| | |
| --- | --- |
| Posted by Owl on August 26, 2012 at 9:30 AM | comments (0) |
This blog will be for minor updates. If I feel like posting a sprite I made or a feature I added, whatever strikes me as not imporant enough to clutter the other pages with.
So, here's one such thing: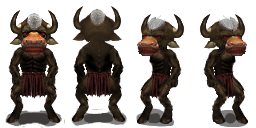 It's a creature I've been working on for Siris' Inferno, and it took me ages to animate it properly (the other frames not shown).
Probably one of the biggest humanoid creatures I've ever animat...
Read Full Post »