I cannot fathom why more gamemakers using RPGMaker doesn't try to get their events to use their brains a bit more.  Anything that can get stuck behind a chair is not going to scare me. It even breaks my immersion when this happens. There are simple ways to get them to go around stuff, even with events.

This blog will be for minor updates. If I feel like posting a sprite I made or a feature I added, whatever strikes me as not imporant enough to clutter the other pages with.
So, here's one such thing: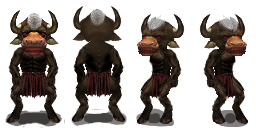 It's a creature I've been working on for Siris' Inferno, and it took me ages to animate it properly (the other frames not shown).
Probably one of the biggest humanoid creatures I've ever animat...
Read Full Post »