As earlier mentioned, I have been working on releasing Demo 2 of Siris' inferno.
I got it done earlier than I expected. Get it from the downloads page!

Work on Siris' Inferno have been going smoothly. I really should have been working on it over the holidays... But other stuff just kept popping up.
I'm really pleased with how things are looking right now though, lots of interesting developments in the new release.

Expect a new release in 1-2 weeks, with the 2nd circle added to it.

A demo should be done in a week or two, depending on how much longer it is going to take to finish some stuff up.

This blog will be for minor updates. If I feel like posting a sprite I made or a feature I added, whatever strikes me as not imporant enough to clutter the other pages with.
So, here's one such thing: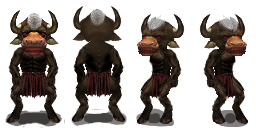 It's a creature I've been working on for Siris' Inferno, and it took me ages to animate it properly (the other frames not shown).
Probably one of the biggest humanoid creatures I've ever animat...
Read Full Post »